Use circular stamps to add a custom finishing touch to paperwork, personal correspondence and events. Available in 3 sizes and 3 ink colours. See details
Fetching compatible options

100% satisfaction guaranteed
Save time and get a professional look with self-inking circle stamps.
3 sizes to choose from
3 ink colour options
Can be used up to 10,000 times
Note: Uploads with small graphics, fonts smaller than 8pt or fine lines are not advised and may be rejected.
Efficient & eye-catching Self-inking circle stamps don't just leave a great-looking custom mark – they save you time and hassle, too. Whether you're wading through paperwork or trying to add the perfect detail to holiday cards, our custom round stamps help you get the job done fast.
Versatile & dependable The shape and 3 size options for circle stamps make them a great choice for all kinds of personal and professional projects. You can create loyalty card stamps for your business, round notary stamps and even hand stamps for events. Or you can add a custom 'seal' to cards, gifts, wedding stationery or classroom projects.
Easy to design Get started by selecting a size and uploading the logo or design you'd like to use on your round stamp. Finalise your order and we'll take care of the rest. When you get your circle stamp, it'll be ready to use right out of the box. No separate ink pad required.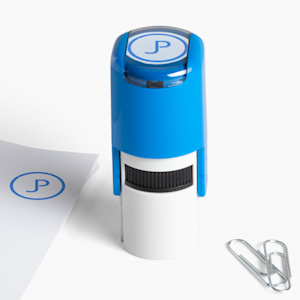 Our professional designers can help create the look you want.

Printed Product Design