2 width options
570 gsm vinyl banner
Single-sided green display
Preassembled stand, banner & case
If video conferences are a regular part of your routine, a green screen background can help you set the right tone. This preassembled set, featuring a green roller banner and a metal stand, is designed for use directly behind you. Once you have a green screen for streaming in place, you can use the "green screen" option on many popular video conferencing services to personalise your background with the image of your choice. The smooth, light-blocking vinyl will help show off your image, whether it's a professional logo, travel snapshot or fanciful design. It's an especially good privacy option when working from home, and can prevent unintentional appearances by other adults, children or pets. And between uses, the convenient banner retracts into its stand for compact and easy storage.
Ready to order your own personal green screen background? Choose from the available options to pick the one that's right for you. We'll take care of the rest – and your banner will arrive ready to set up and use.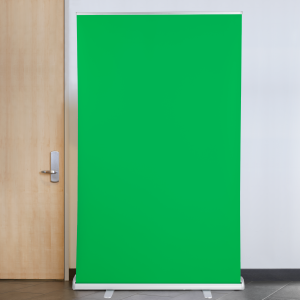 Our professional designers can help create the look you want.

Printed Product Design