Poster Holders
Turn your poster or menu into a freestanding display with a sturdy aluminium poster stand.
See details

100% satisfaction guaranteed



Free-standing aluminium stand
Adjustable height: 100-140 cm
Snap-in/snap-out frame
Protective, clear film cover
Fits 1 poster (A3 size)
Looking for a way to display custom signage without a wall? Poster holders can help you share important information in open spaces – office lobbies, restaurants, outdoor events and more. Each of our floor-standing display stands includes a weighted base and 100 cm tall frame, with the ability to extend the height to 140 cm. The snap-in/snap-out frame is designed to fit an A3 poster, and it can be adjusted for horizontal or vertical display.
Ready to order? we'll help you design your custom poster. When you're ready, we'll take care of the rest of your order, and your poster display stand will arrive ready for setup and use.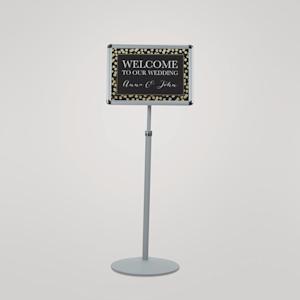 Our professional designers can help create the look you want.

Printed Product Design