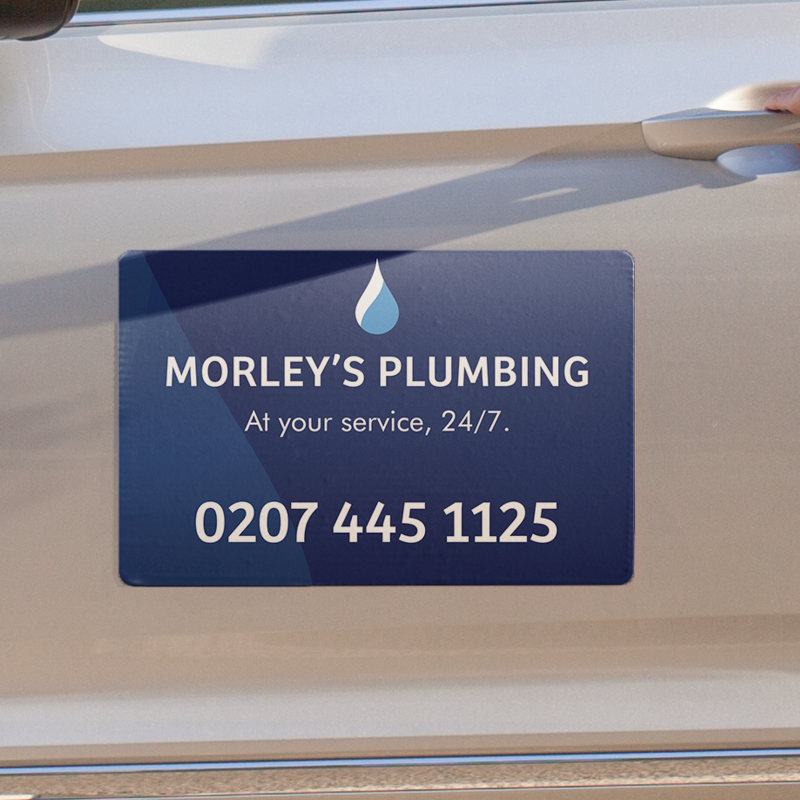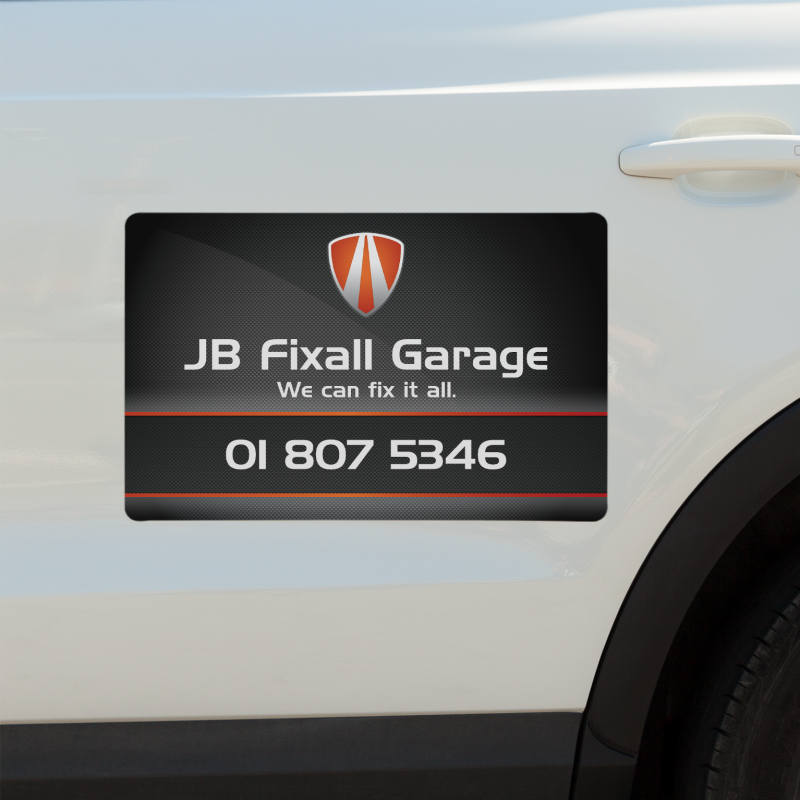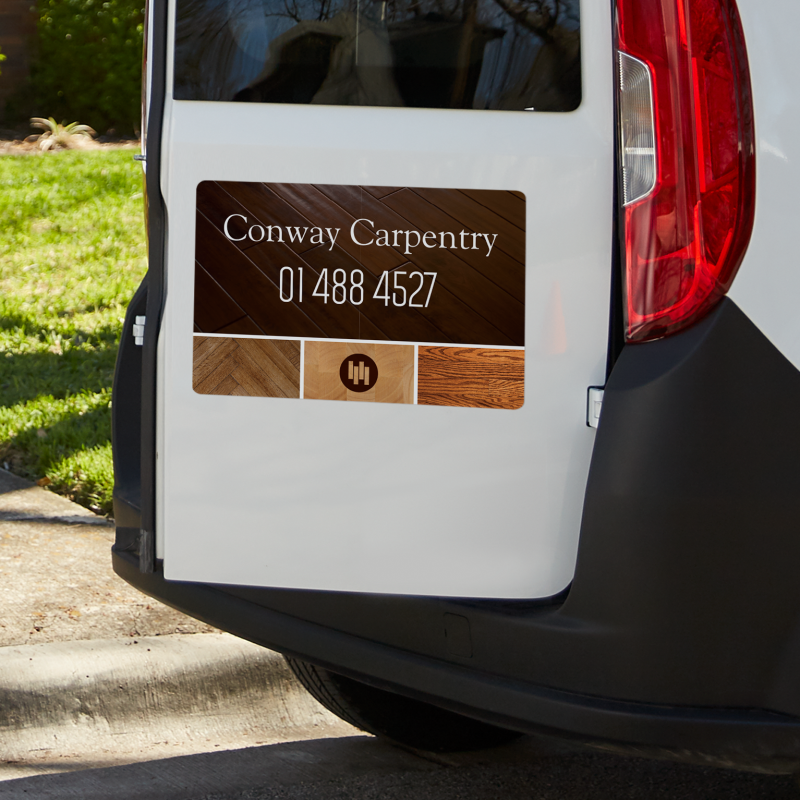 Get more mileage out of your marketing.
0.85-mm thick magnet
4 size options
Durable, wind-tested hold
Full-colour, fade-resistant printing
Design upload available
Seeking a new way to build awareness about your business? With personalised magnetic car signs, you can outfit your vehicles with quick and effective marketing on the go. Durable, weather- resistant and wind-tunnel-tested, the right magnetic sign can get your business name and logo noticed by pedestrians or other drivers – and they can help you make a strong first impression.
Ready to start? Begin by picking your magnet size and placement. You may want to add branding to a side door, the back of a van – or even both. Then move on to designing, whether you prefer to upload your own design or add your details to one of our fully customisable templates. We'll use fade-resistant UV ink printing to add your design to the matte surface of your magnetic car sign – and the finished product will be ready to stand out wherever the road takes you.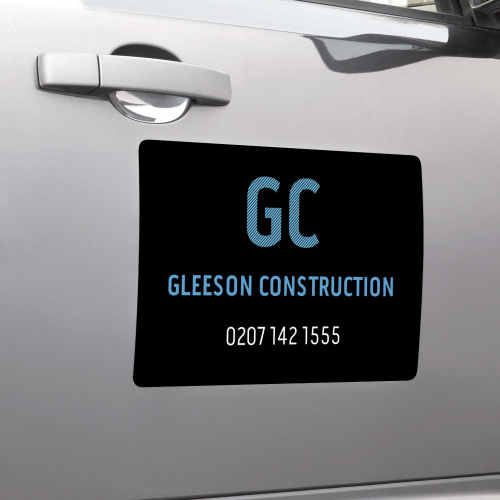 To make sure your printed product looks its best, please review our bleed, trim and safety area info at right.
Bleed (Red Line): Your background should reach this line. This helps to prevent white lines from appearing along the edges.
Trim (Solid Blue Line): This line shows the expected edges.
Safe Area (Dotted Grey Line): Any text or images needs to fit within this box.
Q: How thick are your magnetic car signs?
A: Each car sign is 0.85 mm thick.
Q: Can I put a sign on a door that is curved?
A: Most likely. Your magnetic car signs should be able to stay in place without any issues on doors or side panels with slight curves to them – and they work very well on flat surfaces. If your surface has dips or bumps, we don't recommend magnets.
Q: How long will my sign last?
A: With proper care and use, magnetic car signs can be used for about two years. At that point, we strongly recommend replacing your magnet to prevent it from falling off your vehicle while you drive.
Q: Should I match my sign to the colour of my vehicle?
A: We recommend that you create an advertising magnet in a different (yet complementary) colour. Not only does this help your magnet stand out to people, it's the easiest way to create a consistent look across multiple vehicles of differing colours. Just make sure you keep your messaging and design simple and clear.
Q: Can I put a sign on a new paint job?
A: No, you'll want to wait for your paint to cure – and this is also the case with a new clear coat or wax job. The recommended wait time is 90 days for a new coat of paint, 60 days for a clear coat and 2 days for wax.
Q: Will I ever have to take car signs off my van?
A: Yes. We recommend these magnets for short-term use, especially repeat short-term use. Long-term use without caring for the car surface underneath can run the risk of paint damage.
Q: How often should I take the car signs off my vehicle?
A: At least once a week – and we recommend that you wash and dry the space under your car signs. If you live somewhere that experiences extreme weather, we recommend you remove your magnetic sign more frequently – ideally once a day – to keep your sign and car paint looking fresh.
Q: Can I wash my car with these signs on?
A: We recommend removing them before washing your vehicle.
Q: Where should I put my car signs?
A: The best answer for your sign may depend on your specific vehicle. If you're working with a larger van or lorry, you can take advantage of the size of a side door with your choice of prominently displayed magnetic lorry signs. Magnetic signs for vans may include options for side panels or even the back door – especially opportunistic if you're often in heavy traffic. That's why we offer a range of options that can work with a variety of vehicle types and sizes.