We're sorry, this item is temporarily out of stock. We're working hard to get it back for you. Check back soon.
Metallic Business Cards
Temporarily out of stock



Use eye-catching foil to turn your card into a conversation starter.
3 paper stock options
85 x 55 mm – standard card size
Standard card corners
Vivid, full-colour printing
All that glimmers may not be gold, but it does tend to get noticed. That's what makes metallic business cards so special: The foil finish catches the light to draws extra attention to your business name or logo. It's an easy and effective way to create a card that stands out to prospective customers, clients and more.
Ready to create your metallic card? Start by picking your paper stock and weight. Then explore our assortment of full-colour designs and add your custom details. Then leave the rest to us: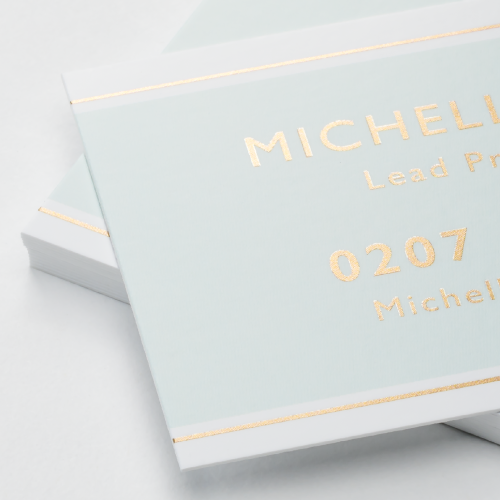 To make sure your printed product looks its best, please review our bleed, trim and safety area info to the right.
Bleed (Red Line): Your background should reach this line. This helps to prevent white lines from appearing along the edges.
Trim (Solid Blue Line): This line shows the expected edges.
Safe Area (Dotted Grey Line): Any text and images need to fit within this box.
Frequently Asked Questions
Q: How will my design look on a metallic card?
A: If your design is using bright, contrasting colours and a simple design, metallic cards could be a great option for you. We find that lighter foil colours tend to work best – dark grey or black foil doesn't really shimmer. If your design includes a lot of fine detail, you may want to consider another option – the detail can look a little muddy with the foil.
Q: Can I upload my own design to create a metallic business card?
Yes. It's important to note that your design will be printed onto a white foil surface – so if you have anything in your design that is white, it won't actually be printed onto the card. Instead, the white foil will shine through.
Q: Which paper should I choose for my metallic business cards? Glossy or matte? Premium matte or standard matte?
A: The difference between glossy or matte often comes down to a personal preference. For richer, more saturated designs, matte is a good choice – especially for metallic cards – and we offer two matte thicknesses. Our standard (300 gsm) matte cards have a silk-coated front and back, and we typically recommend this thickness for high-volume use, such as trade shows, events or package inserts. Our premium (360 gsm) matte has a special matte varnish on the front side, and is recommended for smaller-volume distribution. And if your design involves vivid colours or photography, you may want to consider our glossy paper.
Q: Can I get rounded corners on my metallic business cards?
A: Not at this time.
Q: Can I request a custom size for my card?
A: Not at this time.
Q: Can I print on the back of my metallic business card?
A: Yes. You can choose from our one- or two-sided printing options. Please note that the metallic finish can only be used on the front side of your card.